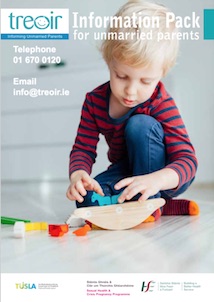 Information Pack for unmarried parents for unmarried parents has recently been updated with new legislation and with the most recent budget changes.
This Pack contains information on legal issues relevant to all unmarried parents, i.e. living together or apart, both opposite and same sex. The legal issues include, information on: guardianship, access, maintenance, establishing paternity, the rights of cohabiting parents and more. The Pack also contains information on social welfare entitlements and other financial matters.
To request a copy of the Pack e-mail us at info@treoir.ie, or contact us on 01-6700120 / LoCall 1890 252 084.