TREOIR Celebrates 40 years!!
A date for your diary:  Wednesday, 7th December 2016
Time:  11:00 – 13:00
Venue:  To be decided
TREOIR'S Information Pack for unmarried parents has been updated with new legislation and more!
This Pack contains information on legal issues relevant to all unmarried parents, i.e. living together or apart.  The legal issues include information on: guardianship, access, maintenance, establishing paternity, the rights of cohabiting parents and more.  The Pack also contains information on social welfare entitlements and other financial matters.
To request a copy of the Pack e-mail us at info@treoir.ie, or contact us on 01-6700120 / LoCall 1890 252 084, or download Pack.
TREOIR's Pre-Budget Submission 2017:  Supporting Financially Vulnerable Families
In July 2016, Treoir made it's submission to the Department of Social Protection.  Among the recommendations made in the submission were the following:
Reinstate the supports for one-parent families in order to address the current high rates of child poverty.
Extend FIS to lone parents in receipt of Jobseekers Transitional Payment subject to certain criteria.
Review working hours eligibility of FIS to align it with current trends on part-time working arrangements.
Introduce additional interim measures for lone parents in part-time employment who cannot increase their hours to avail of FIS.
Allow for flexibility in the payment of FIS in the event of changes of income or working hours for short periods.
Apply the same Income Limits for the Back to School and Footwear Allowance to lone parents or couples (similar to FIS).
Extend the eligibility of the Widowed or Surviving Civil Partner Grant to cohabitants and to other surviving guardian who have one or more dependent children living with them 
Introduce a single childcare subvention scheme for single parents who need childcare for children aged up to 12 years in order to participate in education, training and work.
Read Treoir's Pre-Budget Submission 2017
The Teen Parents Support Programme (TPSP):  Pre-Budget Submission 2017
The Teen Parents Support Programme (TPSP) consists of eleven separate projects funded by TUSLA and the HSE and located throughout the country in a range of statutory, community and voluntary organisations. The TPSP engages with young people who become parents when they are under 20 years of age and supports them to build their capacity as parents as well as completing their own development as adolescents moving towards early adulthood. Support is offered in all areas of the young person's life – parenting, health, relationships, education, training, childcare, accommodation, social welfare entitlements, legal issues and anything else about which the young person is concerned.
The National Co-ordinator of the Teen Parents Support Programme (TPSP) is based in Treoir.
See TPSP's Pre-Budget Submission 2017.
The Paternity Leave and Benefit Bill 2016
As of September 1st 2016, fathers are entitled to two weeks of statutory paternity leave and two weeks of State paternity benefit of €230 per week (subject to the individual having made sufficient PRSI contributions prior to commencing the leave) to be taken at any time within the first six months following the birth of their child. The benefit will be available to both employed and self-employed fathers. It will also apply in the same way to fathers of newly-adopted children and to same-sex couples on an equal basis with other couples.  Fathers need a Public Services Card to apply for paternity benefit. See here for further information.
The Department of Education and Skills, announces their Home Tuition Scheme 2016/2017
The Department of Education and Skills operates three different categories of Home Tuition for the 2016/2017 school year.  One of which is the 'Home Tuition for Students on Maternity Related Absences'.  The purpose of this scheme is to provide home tuition to students who are enrolled in a recognised school at post primary level studying at junior or senior cycle and whose education may be disrupted due to pregnancy.
For further information see Circular 0051/2016 – Home Tuition Grant Scheme 2016 /2017 – Maternity Related Absences Component for information on this scheme and details of criteria for eligibility citeria.  Download application form.
CSO:  Vital Statistics and Yearly Summary 2015
Of the 65,909 births registered in 2015, there were 23,990 births registered as outside marriage/civil partnership accounting for 36.4% of all births, an increase of 0.1 percentage points from 2014.  The highest percentage of births outside marriage/civil partnership was in Limerick City at 55.7% and the lowest was in Dun Laoghaire Rathdown with 24.0%.
The average age of first time mothers in 2015 was 30.7 years. The average age of mothers at maternity for all births registered in 2015 was 32.5 years. The average age of first time mothers outside marriage/civil partnership was 28.1, while the average age of all mothers outside marriage/civil partnership was 29.6 years. A total of 1,187 teenagers had babies in 2015, of these 42 were aged under 16.
Clann project launched – June 2016
Justice for Magdalenes Research (JFMR) and Adoption Rights Alliance (ARA) have launched a project in association with global law firm Hogan Lovells. The project, which will be known as Clann: Ireland's Unmarried Mothers and their Children: Gathering the Data (Clann),will provide free witness statement drafting assistance to enable individuals to make a comprehensive statement to the Commission of Investigation into Mother and Baby Homes.  It is intended that Clann will act as a parallel process to the Commission of Investigation, collating information regarding any of the 170+ institutions, organisations, agencies and individuals which were involved with unmarried mothers and their children in 20th century Ireland. The witness statement gathering process forms part of a larger project to create a permanent archive of the experiences of Ireland's unmarried mothers and their children via the Clann website.  The Clann website will act as a resource for individuals affected by the issues and will be available to the wider public for ongoing education and research.
Decline in the numbers travelling to terminate a pregnancy since 2001
The number of women travelling from the Republic to Britain for an abortion has fallen to the lowest level since 1980, official figures have revealed.UK records show 3,451 women gave an address in the Republic when attending clinics in England and Wales in 2015.  This represented a slight fall on the previous year and a 48% decline in the numbers travelling to terminate a pregnancy since a peak of 6,673 was reached in 2001.  The HSE Crisis Pregnancy Agency welcomed the drop in numbers but said unplanned pregnancy and abortion were still a reality for women in Ireland.
Chart 1:  Number of women travelling for abortions 2000 – 2014

Source:  UK Dept. of Health
Chart 2:  The number of abortions by age 2015

Source:  UK Dept. of Health
Chart 3:  The number of abortions by marital status 2015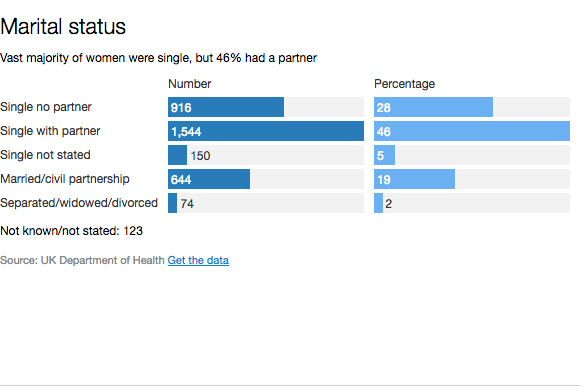 Source:  UK Dept. of Health
The Irish Family Planning Association said the data did not give a true picture of Irish women accessing abortion because increasing numbers are using pills obtained online to terminate their pregnancies.
Abortion Aftercare helpline launched
A free aftercare helpline for women in Ireland who have taken abortion medication they bought online has been launched by a British family planning service. The British Pregnancy Advisory Service (Bpas) is extending its helpline to women in Ireland who have bought pills online from two not-for-profit organisations.  "The confidential nurse-led telephone service will offer advice to women who have obtained pills from the online not-for-profit clinics run by Women Help Women (WHW) and Women on Web (WOW) and who are concerned about any symptoms or simply want to speak to someone," Bpas said.
The helpline number is: 1800-910049
UN ruling on abortion laws
In July 2014, the United Nations (UN) Human Rights Committee conducted its fourth periodic review of Ireland.  The Human Rights Committee is a body of eighteen human rights experts that monitors state parties' compliance with the International Covenant on Civil and Political Rights (ICCPR). Members are elected by state parties.
The following were among the Committee's observations:
      'Violence against women'
       The (Irish) State should:
take further legislative as well as policy measures to ensure that all women, particularly women from vulnerable and marginalised groups, have equal access to protection against perpetrators of violence. It should also establish a systematic data collection system to inform current and future policies and priorities, and provide, in its next report, statistics on complaints, prosecutions and sentences regarding violence against women.

     'Abortion'
      The (Irish) State should:
revise its legislation on abortion, including its Constitution, to provide for additional exceptions in cases of rape, incest, serious risks to the health of the mother, or fatal foetal abnormality;
swiftly adopt a guidance document to clarify what constitutes a "real and substantive risk" to the life of the pregnant woman;
consider making more information on crisis pregnancy options available through a variety of channels, and ensure that health-care providers who supply information on safe abortion services abroad are not subject to criminal sanctions.
Read report here.
Preparing for Life
The results of this early childhood intervention trial programme, which ran from 2008 to 2015, showed a dramatic impact on children's health and behaviour.   The programme involved 200 families and was run by the Northside Partnership in Coolock, Co. Dublin.  The participating families each received 50 home visits over this period, with mentoring, role modelling and detailed work-sheets being provided.  Some of the findings show that children whose parents received the intervention were less likley to be overweights (23% compared to 41% in the control group) and had fewer behavioural problems (2% compared to 17% in the control group).  The findings of this study were evaluated by the Geary Institute for Public Policy at University College Dublin.  The lead researcher at UCD, Dr. Orla Doyle said that "the results show that developing the skills and knowledge of parents is a particularly effective and impactful approach to changing and improving outcomes for children."  Noel Kelly, the study's manager, has called for this programme to be rolled out nationwide.
See summary report.  –  5/2016
Irish Children's Services
In June this year the Health Information and Quality Authority (HIQA) published its latest annual overview report on the inspection and regulation of children's services in 2015.  Ann Ryan, Head of Children's Programme, HIQA said: "The children's team conducted 114 inspections of different services in 2015. These included Child Protection and Welfare Services, Foster Care Services, Statutory Residential Care, Special Care Units, Children Detention Schools (Oberstown Campus) and Designated Centres for children with a disability".  She went on to say: "What is clear from inspection and monitoring activity is the variance of practice by different providers in relation to the quality of service delivered."
The Children's Rights Alliance (CRA), commenting on this report, welcomed the many improvements in children and family services identified but expressed concern about the inconsistency of services for children across the country, as highlighted in the report.  The CRA said that it was very significant that: "the majority of children who spoke to HIQA inspectors are reporting positive experiences of services. They said that they and their families had benefitted from a social work or other type of care intervention. HIQA also pointed to the fact that some children lacked knowledge of their rights, the information being held about them and how to complain about their treatment".  The CRA said: "The key here for these children is better and more child-friendly information on their rights. But information alone is not enough, children and young people need the support of independent advocates to help them vindicate their rights."
HIQA's Annual Overview Report is available here
Courts Service Annual Report 2015
In July 2016, The Chief Justice, Mrs. Justice Susan Denham, presented the Courts Service Annual Report 2015 to the Tánaiste and Minister for Justice and Equality Frances Fitzgerald T.D.  In her address the Minister referred to plans for a dedicated and integrated Family Law and Children's Court building in Dublin.  She said:  "I am very conscious of the concerns expressed by the judiciary, legal practitioners and victims groups in relation to the poor state and set-up of many Family Court facilities. The new development will be situated on the Hammond Lane site in Smithfield and will ensure appropriate state-of-the-art facilities where family law cases can be heard."
The Report states that of particular concern is the increase of 13% in the volume of domestic violence applications in the District Court since 2012.  A support and referral service for women provided by three organisations – Women's Aid, Dublin 12 Domestic Violence Service and Inchicore Outreach Centre – continued in Dublin District Family Court in 2015.
The mediation initiative which offers mediation as an alternative to court as a more appropriate means of resolving certain family disputes also continued in 2015.  Additional pilot initiatives were introduced, one of which was carried out in Cork and Athlone, whereby litigants applying for legal aid must attend a mandatory information session on mediation before they will be granted representation. The result of this and other such initiatives will inform policy in relation to the more widespread use of mediation and the implementation of any future legislation on mediation.
The following are among the statistics contained in the Courts Service Annual Report 2015:

The District Court received 2,367 guardianship applications by unmarried parents in 2015.
NOTE:  'Not granted' includes applications which were refused, withdrawn or struck-out.

There were 5,916 applications for custody and access in the District Court.
NOTE:  'Not granted' includes applications which were refused, withdrawn or struck-out.
The District Court received 2,571 maintenance applications by unmarried parents in 2015.
NOTE:  'Not granted' includes applications which were refused, withdrawn or struck out.
There was a 58% increase in new applications to the High Court under the Hague Convention on Child Abduction – 41 compared to 26 in 2014.The waiting time for an action to heard in the Family Law District Courts, i.e. the time from receipt of application to date when application is listed for hearing, ranged from 2 – 20 weeks.
The waiting time for an action to heard in the Family Law District Courts, i.e. the time from receipt of application to date when application is listed for hearing, ranged from 2 – 20 weeks.
The Quality Time Project:  Supervised Access
Cloyne Diocesan Youth Services (DCYS) has set up a new initiative that hopes to address the needs of children and young people who for a variety of reasons require supervised access to maintain a positive, safe and healthy relationship with their biological parents. They aim to provide a child centered service supporting the child's emotional well being and sense of identity, by providing:
 
the appropriate space to ensure the safety and welfare of children
therapeutic parent- child mentoring for clients using the service in order to promote and strengthen family relationships
professional monitored supervised access & appropriate contact space.
It is possible to self-refer for this service, which is available on Fridays and Sundays.  The cost of the service is €45.00 per hour.  For further information, contact:  087-3239775/022-21812 or maria@cdys.ie.
PATHWAY:  Tenant Information Service
The Tenant Information and Support Service works to support people to remain in their homes and gives people the advice and support that they need in their local community.  The service is provided by Dublin Simon Community on behalf of Dublin City Council.  Information and advice is provided in the following drop-in clinics:
Darndale (North Central)
Ballyfermot (South Central)
Wood Quay (Central)
Aungier Street (South East)
Finglas (North West)
For further information and details on the drop-in clinics, see here.
Credit Union loan system
A new Credit Union loans system is being rolled out, aimed at putting pressure on moneylenders. The 'It Makes Sense' scheme gives loans of no more than €2,000 to low-income families.   It allows them to pay the loan back at much lower interest rates than they would get with moneylenders.  Michael Culloty from MABS said he hoped the scheme would put pressure on lenders who are taking advantage of families.  The scheme has been trialled in 30 Credit Unions since last November.   (Irish Examiner 26/7/2016)
Benefacts.ie, is a website which was launched in May by Minister for Public Expenditure and Reform, Paschal Donohoe. This website aims to bring transparency to the finances of more than 18,600 civil society organisations in Ireland.  It carries information on a range of bodies including charities, schools, sports clubs, museums and religious groups.  The Benefacts project has been developed over the course of three years at a cost of €4 million and was funded by the Department of Public Expenditure and Reform in conjunction with Atlantic Philanthropies and The Ireland Funds, with the State providing half the funding.