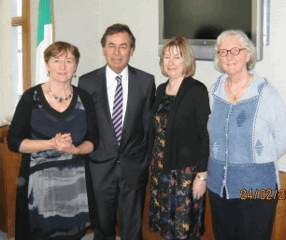 Treoir met the Minister for Justice, Equality and Defence, Alan Shatter TD, on 24th February 2012, to discuss the recommendations of the Law Reform Commission on Family Relationships and upcoming family law legislation.
The topics discussed included the legal rights of unmarried fathers, guardianship rights for those acting in loco parentis, compulsory birth registration, legal age to consent to sexual activity, central register for guardianship agreements.
Pictured at the meeting from left to right: Margaret Dromey, CEO Treoir, Alan Shatter T.D., Leonie Lunny, Chairwoman Treoir, Margot Doherty, Assistant CEO Treoir.