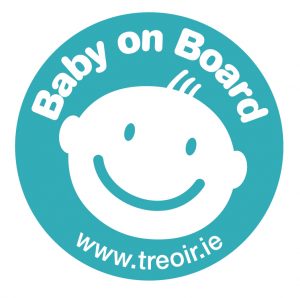 Treoir conducted an information campaign in 2013 to provide information for expectant unmarried parents. The campaign highlighted key information on issues including birth registration, cohabitation, shared parenting and establishing paternity. To promote the campaign, we developed 10 Top Tips for unmarried and about-to-be parents and produced a specially branded "Baby on Board" badge (…and we now have a new supply!) which pregnant women could use to gain a seat on public transport. Also, If you are a service provider and have a waiting room you could request a lovely colourful poster produced by Treoir with the message "Please offer a seat to someone who needs it more than you do".
10 top tips when you are unmarried and about-to-be parents
1.    Contact your local GP and get your medical care organised.
2.    If the pregnancy is stressful or unplanned, talk to someone who can help.
3.    Where possible it is good for your baby to have the names of both parents on her/his birth cert. Read more.
4.    Think about what surname you will give your baby – mother's surname, father's surname or a double-barreled surname. Read more.
5.    An unmarried father does not get any legal rights to his baby by having his name on the birth cert.  A father has to take action to become his baby's guardian, even if he is living with the mother. Read more.
6.    Think about where you will live and what you will live on.  If you are not living together you will need to think about how much maintenance the non resident parent will pay in respect of your baby.
7.    If you are not living together, think about how you will share the parenting of your baby.
8.     Couples living together, both opposite and same sex, may now be eligible to apply for maintenance and other rights if their relationship ends. Read more.
9.    It may be necessary to establish paternity where paternity is in doubt. Click here for DNA testing procedures, laboratory addresses and costs.
10.   Check out what Maternity Leave and Maternity Benefit you may be entitled to. Click here.  If you are not working contact your Local Intreo / Social Welfare Office.